The purpose of the organization shall be: to perpetuate the "Negro Spiritual" as a distinctive art form as an expression of the Negro's ancestors' struggles and aspirations; to preserve the legacy and posterity of the Negro Spiritual in its original medium and foster it's influence for all peoples of the community; to maintain a standard of professional excellence; and to sponsor and support other worthwhile cultural activities.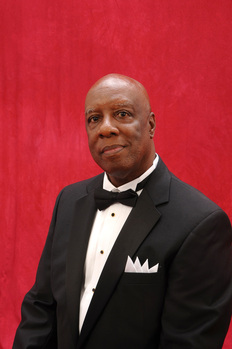 <!-http://www.hitwebcounter.com/counterImages/DESIGN_03.jpg- hitwebcounter Code START -->

Traffic Stats
DIRECTOR'S CORNER

WELCOME BROTHERS AND SISTERS! HERITAGE is delighted to share in our celebration of the Negro Spiritual. Through our communications via website, festivals, and literature you will capture the true essence of a most eloquent expression of human experiences.

Clarence Jones is a versatile and gifted musician and educator. He has received local, national and international recognition as a virtuoso performer on the organ and piano. Audiences are especially receptive to his improvisational style of performing in various genres of music.

In 1976, He organized HERITAGE, a choral ensemble dedicated to the restoration and preservation of the Negro Spiritual. He has directed HERITAGE in concerts and cultural programs throughout the country and on a European Tour in 1990. He has served as clinician for many workshops and as an adjudicator for various piano festivals.

Mr. Jones exhibits his expertise in the art of accompanying and techniques of improvisation as an instructor at the National Baptist Congress of Christian Education, USA, inc. He is organist/choral director at Mount Zion First Baptist Church and Minister of Music at New St. John Baptist Church in Baton Rouge, Louisiana. A record of performing, composing and conducting credits unquestionably document his reputation as an artist.

In addition to his numerous accomplishments as a musician. Mr. Jones is a dedicated educator. He retired as the Principal at McKinley Senior High School in Baton Rouge and still teaches part-time. He received Bachelor and Master of Education Degrees from Southern University, with further study at Louisiana State. He has served as Supervisor of Student Teachers, Supervisor of Hearings, Suspensions and Expulsion, for the East Baton Rouge Parish School System, among other appointments.

Mr. Jones received special honors and recognition including the Key to the City and appointment as "Honorary Mayor" from the City of Baton Rouge and the Parish of East Baton Rouge, he was guest of honor of the Mayor of the City of San Salvador, Republic of El Salvador, Central America, to name a few.

Among his many professional and community affiliations are Phi Delta Kappa, Louisiana Association of School Executives, National and Louisiana Education Associations, Sinfonia Fraternity of America, YMCA, and Mu Psi Chapter of Phi Mu Aplha.

We are excited about our opportunity to sing, and we hope our offering of sprirituals will be uplifiting and enjoyable to you.